Introduction
Clinks work has a significant focus on government policy, both at a national and local level, with two aims:
•    To keep members informed about, and engaged in, the development of criminal justice policy
•    To ensure that the voluntary sector's role, knowledge and expertise in reducing reoffending is reflected in policy decisions.
 
Our members
Our policy messages are based on what voluntary organisations working in the criminal justice system tell us. The voluntary sector's extensive knowledge and experience informs the basis of all our policy positions.
 
In turn, the intelligence we gather from the sector is based on what they observe and what the people they support tell them about how policy and practice affects their lives.
 
Many of our members use this knowledge and intelligence to inform their own policy influencing activity. We work with the sector to support them to do this, and in partnership with them to strengthen their voice.
If you would like to contribute to our work to influence the government look out for our consultation events and calls for evidence in our Light Lunch ebulletin.
Clinks thinks
Our work to inform public policy is underpinned by a set of core principles that reflect key issues raised by our members and the main issues for which Clinks advocates for change.
Clinks thinks all sectors working in criminal justice should:
Value the voluntary sector both as a designer and provider of services.
Strengthen the sector's voice, allowing it to speak freely on behalf of the people it supports and communities.
Put people at the heart of services - policy and practice should be person-centred and acknowledge the need for long-term support.
Reduce the prison population through early intervention, prevention, diversion and alternatives to custody.
Implement a distinct approach for women, including increased use of gender specific community services and investment in specialist voluntary organisations.
Tackle racism and discrimination by ensuring that the needs of black, Asian and minority ethnic people are met. The government should have a comprehensive strategy that gives race equality a central place in criminal justice policy making.
Prevent the imprisonment of children - the youth justice system should remain focused on reducing the use of youth custody and must produce a strategy to address why its current approach has failed black, Asian and minority ethnic young people.
Involve people with lived experience throughout the criminal justice system to inform policy and practice.
Join up services to respond to multiple needs using learning from the Making Every Adult Matter Coalition.
Support healthy relationships through a clear government strategy for consistent and specialist services for adults and children in contact with the criminal justice system.
Improve health and wellbeing by working across the health and justice systems to prioritise health and wellbeing and continuity of care.
Champion volunteering - government agencies should work with the voluntary sector to create a culture and operating environment that encourages and supports volunteers.
Encourage creativity and inspiration by ensuring access to arts activities for people involved in the criminal justice system.
What Clinks is doing
Influencing government
We have strong relationships with government. This allows us to represent the views of voluntary organisations at a senior level. This relationship enables us to act as a critical friend to the Ministry of Justice and Her Majesty's Prison and Probation Service, as well as other departments whose policy has an impact on the lives of people in the criminal justice system. This includes Ministry for Housing, Communities and Local Government, Ministry of Health and Department for Work and Pensions.
 
To ensure we represent the voluntary sector effectively, we regularly consult our members and others by convening workshops, roundtables and conferences and through online calls for evidence.
We communicate our findings to key decision makers through informal and formal meetings, including evidence to parliamentary select committees, written responses to government consultations and independent policy reports.
Informing the sector
The policy landscape can change rapidly, making it difficult to keep abreast of everything that is taking place.
Our briefings support our members to digest significant developments quickly, indicate potential implications for the sector and assist in planning organisational responses.
Members also receive our monthly Policy briefing ebulletin, which includes important news and developments relating to policy affecting the voluntary sector and the criminal justice system as a whole, key research publications and interesting blogs. 
Showing your impact
Clinks is hosting a tool which aims to help voluntary organisations working in the criminal justice system to show their impact. The tool has been designed and built by Optimity Advisors with support from The Monument Trust. You can use the tool to generate a business case - simply answer a series of questions about your service or intervention, and it will generate a business case report which you can save as a PDF. It also has guidance and key considerations on how to show impact. Click here to get started
Advising the Ministry of Justice
Clinks chairs and provides the secretariat for the voluntary sector advisory group to the Ministry of Justice.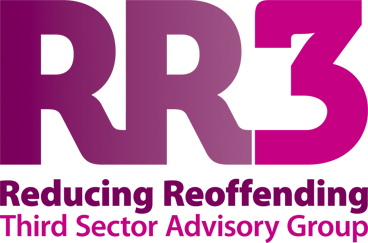 The Reducing Reoffending Third Sector Advisory Group (RR3) provides the key interface between the voluntary sector and the Ministry of Justice, in order to increase mutual understanding and build a strong and effective partnership. The group is made up of senior experts from the voluntary sector and meets quarterly with civil servants to provide guidance and feedback on MoJ policy developments. We've written a guide to the RR3, which gives more detail, its membership and key achievements. You can read the full terms of reference here.
To see the members of the Reducing Reoffending Third Sector Advisory Group, click here.
If you would like to discuss any specific areas of the RR3's work, or how you can engage with the group's activities, please contact Will Downs.
Keep informed
We publish the meeting notes of all RR3 meetings. You can also stay up-to-date with the activity of the RR3 by looking out for notes and announcements in Clinks' Light Lunch ebulletin and monthly policy briefings. Click here to browse all of the RR3's publications.
Advisory group members
Visit our Meet the team page to see the members of the Reducing Reoffending Third Sector Advisory Group.
Join the advisory group
News about recruitment to the RR3 and to its special interest groups will be posted on Clinks' Jobs board. 
RR3 special interest groups
We develop special interest groups (SIG) to advise on specific areas of policy and practice as the need arises.
Special interest group on employment support, February – June 2019
This SIG brought together employment specialist voluntary organisations for a one off roundtable to explore challenges and opportunities for the Ministry of Justice to improve the employment outcomes for people with convictions. Download the recommendations paper.
Special interest group on accommodation, December – April 2018
This SIG explored the barriers people in contact with the criminal justice system experience when trying to access appropriate accommodation and made recommendations for how these can be addressed. Download the group's briefing to the Ministry of Justice
Special interest group on substance misuse and addiction - October 2017
This SIG was brought together for a one-off roundtable on 11th October 2017 to explore the issues facing voluntary organisations and service users in the substance misuse sector.
Special interest group on commissioning family services - 2016
This SIG was convened to offer an opportunity for organisations to work with HM Prison and Probation Service on the commissioning of family services for prisons. Download the group's briefing to the Ministry of Justice.
Special interest group on people at risk of suicide and self-harm - 2016
This RR3 SIG met twice in 2016 to discuss how to provide effective care and support for people at risk of suicide and self-harm when entering prison, in prison and on release. Download the group's briefing to the Ministry of Justice.
Special interest group on supporting effective mentoring through the gate - 2016
This SIG explored how to provide effective mentoring for men and women resettling in the community after a prison sentence. It considered the role and contribution of the voluntary sector in pioneering this approach and the impact of the current commissioning, contracting arrangements and funding on the voluntary sector's ability to deliver effective mentoring. Download the group's meeting notes.
Women's networking forum
The women's quarterly networking forums are hosted in partnership with Agenda. They provide support, information and networking opportunities to those working with women in contact with the criminal justice system.
Lisa Dando, women's specialist on the RR3 and Chief Executive at Brighton Women's Centre, attends the women's networking forum and uses the intelligence she gathers to feedback key issues raised by the women's sector to national government at RR3 meetings.