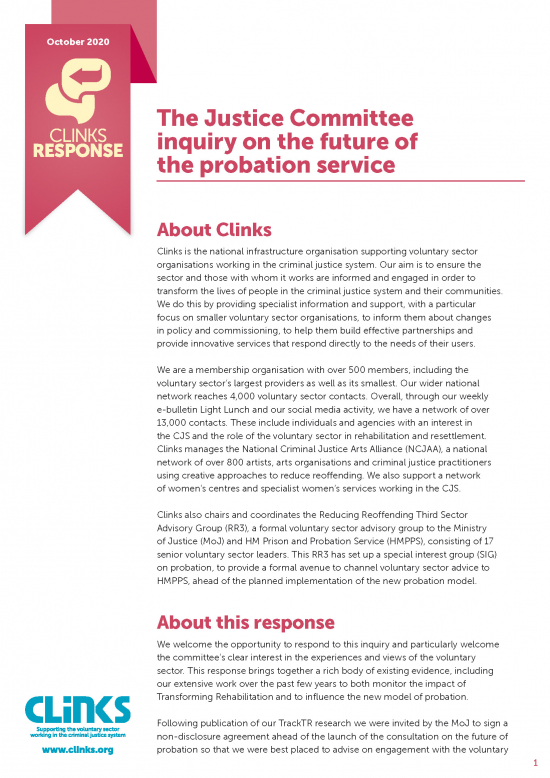 Clinks response: future of the probation service
Clinks submitted evidence to the Justice Committee inquiry on the future of the probation service.
Our response focuses on the opportunities and concerns we have about the long-term future involvement of the voluntary sector in the reformed probation service.
We reiterate many of the challenges the voluntary sector have faced in navigating the commissioning processes for the new probation model, and the specific challenges faced by small and specialist organisations when engaging with the dynamic framework. We highlight the particular impact this may have on voluntary services that are aimed at and led by people from black, Asian and minority ethnic (BAME) communities and specialist women's services.
Our response has been informed by a series of consultation events, meetings and roundtables with hundreds of voluntary organisations. This includes meetings convened by the Reducing Reoffending Third Sector Advisory Group (RR3), regional meetings held across England and Wales by Clinks' Area Development Team, and events to support voluntary organisations understand the dynamic framework and build partnerships.
Our recommendations include for Regional Probation Directors to administer a light-touch grants programme to cover core costs of small and specialist organisations in their area; for HM Prison and Probation Service (HMPPS) to engage with BAME-led organisations and BAME service users in the development of call-off specification and encourage Regional Probation Directors to commission these services at the earliest point possible; and for the Ministry of Justice (MoJ) and HMPPS to set out clearly how prime contract holders will be held to account on information flow to their supply chains under the future model.
On October 13th 2020, Jessica Mullen, Director of Influence and Communications at Clinks gave further evidence to the committee at an oral evidence session, alongside other voluntary sector leaders.