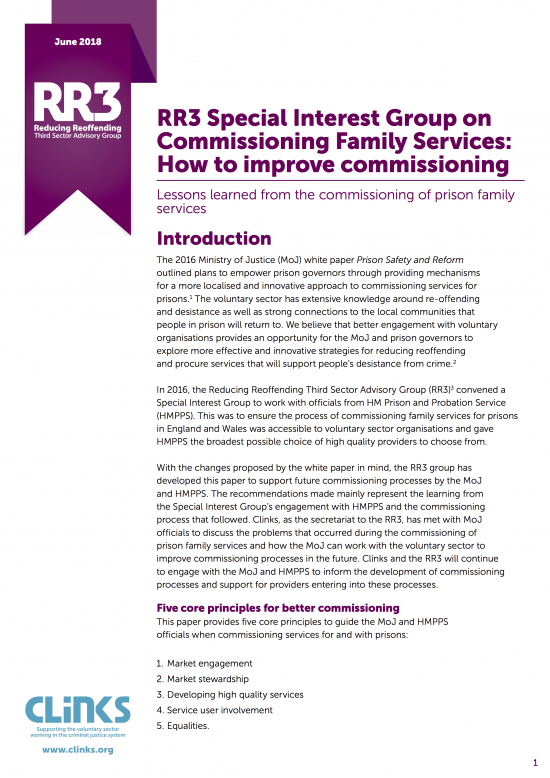 RR3 Special Interest Group on Commissioning Family Services: How to improve commissioning
Lessons learned from the commissioning of prison family services
This Reducing Reoffending Third Sector Advisory (RR3) Special Interest Group convened to offer an opportunity for organisations to work with HM Prisons and Probation Service (HMPPS) on the commissioning of family services for prisons. The group was sponsored by Diane Curry, RR3 member and Chief Executive of Partners of Prisoners.
Following input in the design of the commissioning process for family services and ongoing feedback to HMPPS on its implementation, the Special Interest Group has developed a paper to support future commissioning processes by the Ministry of Justice (MoJ) and HMPPS.
The paper sets out five core principles for better commissioning:
1.     Market engagement
2.     Market stewardship
3.     Developing high quality services
4.     Service user involvement
5.     Equalities.
The paper also makes 15 recommendations, which represent the learning from the Special Interest Group's engagement with HMPPS and the commissioning process that followed.
Clinks has met with MoJ officials to discuss the problems that occurred during the commissioning of prison family services and how the MoJ can work with the voluntary sector to improve commissioning processes in the future. Clinks and the RR3 will continue to engage with the MoJ and HMPPS to inform the development of commissioning processes and support for providers entering into these processes.