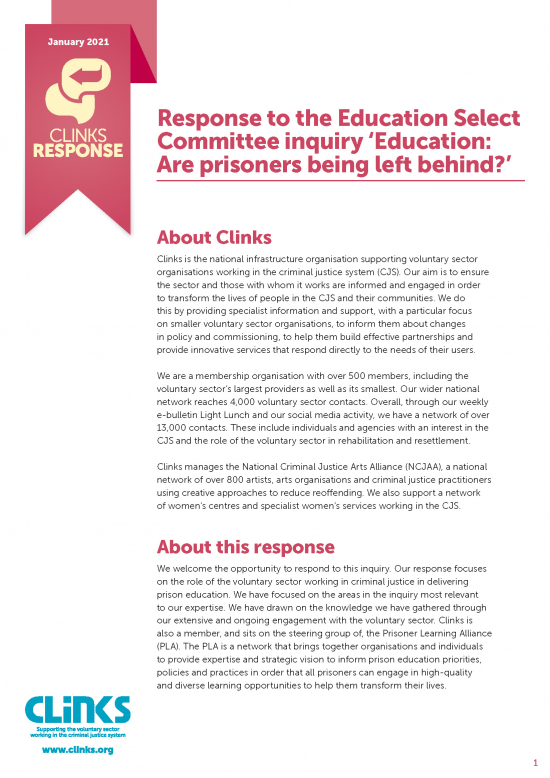 Response to the Education Select Committee inquiry 'Education: Are prisoners being left behind?'
Clinks submitted written evidence to the Education Select Committee's inquiry into prison education. Our response focuses on the vital role the voluntary sector plays in delivering education, training and learning support in prison.
We highlight the growing number of barriers that were impacting the voluntary sector's ability to deliver meaningful education interventions in prison prior to the Covid-19 pandemic including the amount of time people in prison were confined to their cells; the lack of infrastructure to support classroom and workshop based activities; and the impact of prison conditions on mental health, impacting people's ability to engage in education. 
We also highlight the challenges the voluntary sector has been facing in adapting education and learning activities around current Covid-19 restrictions in prisons. In particular, the lack of IT in prisons has made it difficult to create virtual alternatives that can be done in cells and for teachers and students to maintain contact.
We recommend, in order to support education and learning, increasing access to digital technology in prisons and increasing time out of cells once 'normal regimes' are resumed.
In addition, our response raises the importance of ensuring there is wide ranging and varied curriculum in prisons. In particular we highlight the need to ensure arts interventions are made available to people in prison. Increased access to the arts offers engagement opportunities for people from diverse backgrounds and those who may have previously had negative experiences of mainstream classroom based education. This can help unlock previously untapped talent, build new skills, and expand employment opportunities.