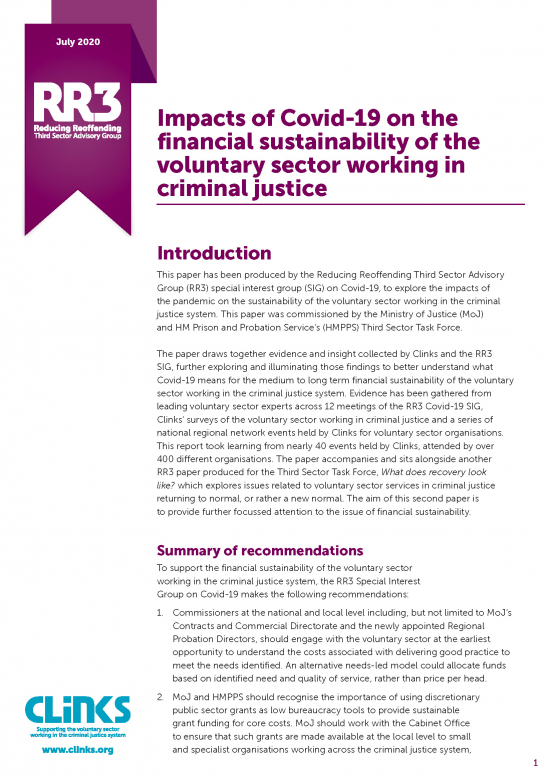 Impacts of Covid-19 on the financial sustainability of the voluntary sector working in criminal justice
This paper has been produced by the Reducing Reoffending Third Sector Advisory Group (RR3) special interest group (SIG) on Covid-19, to explore the impacts of the pandemic on the sustainability of the voluntary sector working in the criminal justice system. It was commissioned by the Ministry of Justice (MoJ) and HM Prison and Probation Service's (HMPPS) Third Sector Task Force.
The paper explores how long-term trends in funding and commissioning models have impacted on the sustainability of voluntary organisations working in the criminal justice system, and how Covid-19 has both exacerbated existing challenges and brought in new challenges. It makes a number of recommendations to the government, including for:
Greater use of discretionary public sector grants as low bureaucracy tools to provide sustainable grant funding for core costs
Emergency funding to be made available to voluntary organisations to cover their costs where Covid-19 has disrupted their usual means to bridge shortfalls in funding for MoJ/HMPPS contracted services
Targeted support to specialist services for people with protected characteristics, with a particular focus on ensuring funding streams for services delivered to and/or led by black, Asian and minority ethnic people
Engagement with voluntary organisations as strategic partners in the design and delivery of services, rather than solely as suppliers.
The paper has been submitted to senior officials at the MoJ and HMPPS. The RR3 will work with relevant teams to implement its recommendations.
The RR3 is a formal voluntary sector advisory group to the MoJ and HMPPS consisting of 16 senior voluntary sector leaders. The group is chaired and coordinated by Clinks. This RR3 special interest group on Covid-19 – co-opting additional voluntary sector leaders with relevant expertise – is advising the government on how best to protect people in contact with the criminal justice system and to protect the future sustainability of the voluntary sector.