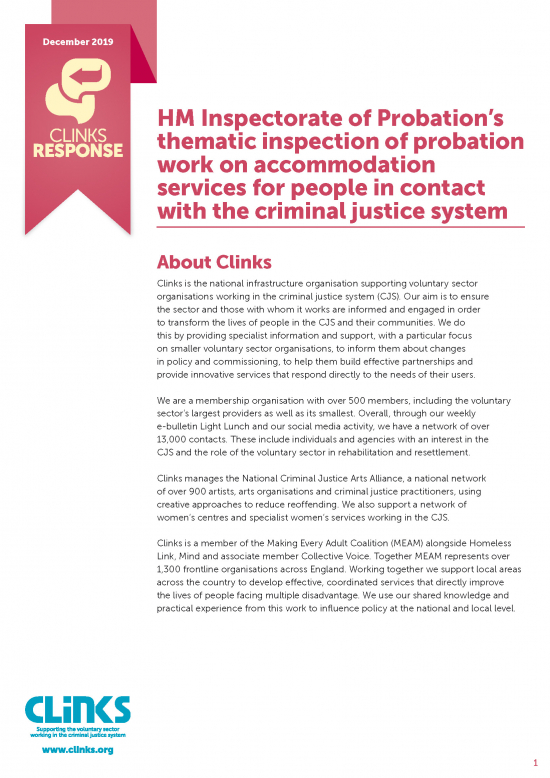 HM Inspectorate of Probation's thematic inspection of probation work on accommodation services for people in contact with the criminal justice system
The response shows that there is both a clear lack of appropriate accommodation for people in the criminal justice system (particularly those leaving prison) and many significant practical barriers in the way of people trying to access what is available. These barriers include people being considered intentionally homeless when they are sent to custody; people struggling to gather a deposit for private rented accommodation; negative attitudes of private landlords towards tenants with convictions; and confusion over the roles and responsibilities of different agencies and organisations in meeting the accommodation needs of people in contact with the criminal justice system.
Our response makes a series of recommendations for criminal justice partners, for which we seek endorsement from HM Inspectorate of Probation (HMIP). In addition to these, we recommend that HMIP requires probation providers to record and publish the accommodation outcomes of the people they are supervising and hold them to account if the data demonstrates poor outcomes. We also ask that HMIP includes questions specific to organisations working in Wales where there are additional barriers to arranging accommodation. 
Our response is based on evidence collected through our State of the Sector research, findings from a Special Interest Group on accommodation that was convened by the Reducing Reoffending Third Sector Advisory Group (RR3) and the insights of eight of our members that are providing accommodation services to people in contact with the criminal justice system.