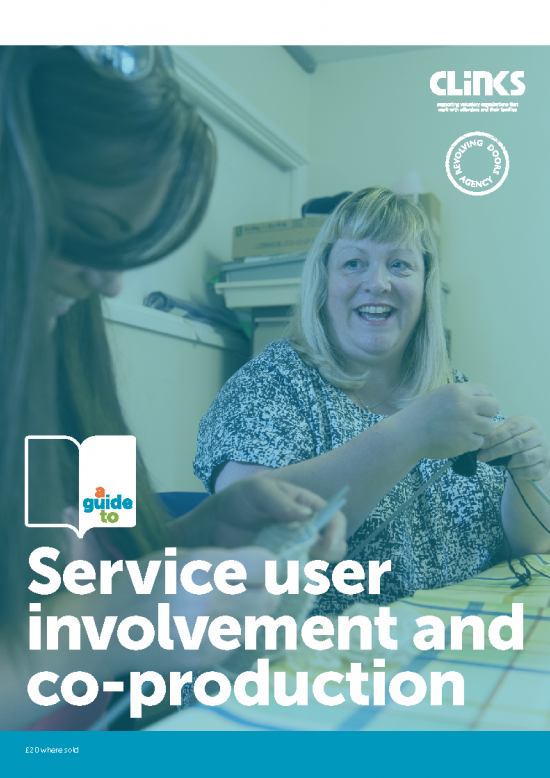 Guide to service user involvement and co-production
Involving service users is key to the difference we can make in the lives of offenders – improving the quality and impact of the services on offer; contributing to wider outcomes, including reducing re-offending; and enabling individual service users to build a new identity which supports their journey to desistance from crime.
"Being involved has given us opportunities we may not have otherwise had – for example, we have received training, been involved in research, talked to policy makers and developed this guide. And in addition, it has also allowed us to develop a vision for ourselves of a new identity that is within reach; a new identity as a contributor and an active citizen. You cannot beat the feeling of being listened to, making things happen and feeling good about yourself."
But if you work with people in prison, on probation or in other areas of the Criminal Justice System, how do you ensure that your service user involvement project is not just another box ticking exercise? What should you be doing to prepare both service users and your staff to produce meaningful results? What is the right level of involvement for your organisation? What are the potential problems to look out for – and the possible solutions?
This guide is designed to give you the practical tools you need to develop an involvement programme and approach which places your service users at the heart of your organisation. It provides a structured and accessible introduction to involving people with lived experience of criminal justice in your work, including examples of good practice, checklists, top tips and signposting to further information and support.
Sections include:
About service user involvement - what it is, why and how to do it
Getting started - developing a strategy, identifying what you will need, and troubleshooting common problems
Project planning and delivery - ensuring your involvement project is as effective as possible
Recruitment, reward and support - how to motivate, recruit, train, support and acknowledge your service users
Resources - where to look and who to speak to for more information and advice
In the section to the right, you can also download sample policies and templates for service user involvement activities (as referred to throughout the guide), to adapt for use at your organisation or service.