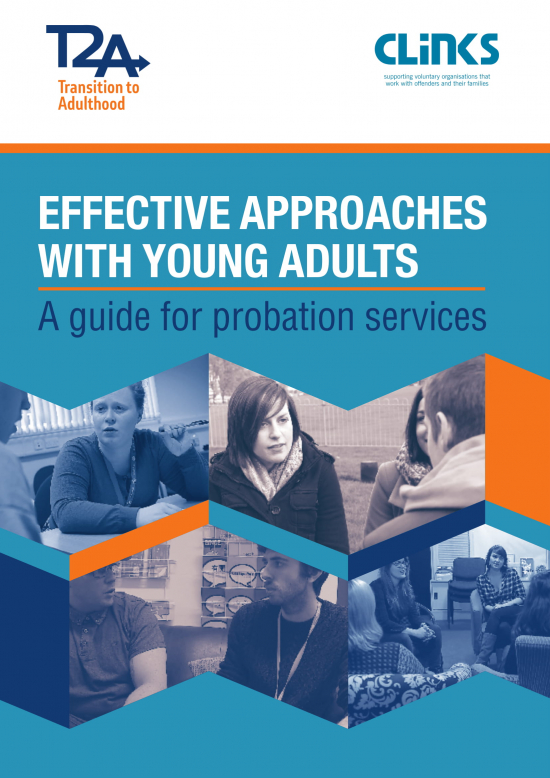 Effective approaches with young adults
A guide for probation services
The aim of this guide is to give probation practitioners, whether in the National Probation Service or Community Rehabilitation Companies, the tools to deliver a more effective approach to young adults.

Young adults (18-24-year-olds) constitute less than 10% of the general population but make up one third of those involved in the criminal justice system (CJS). However, young adults are the most likely age group to desist and grow out of crime, and the wrong intervention at this time can slow desistance and extend the period that a young adult is involved in the CJS. Probation services often find young adults harder to engage than older adults in services, which can be due to maturity levels, chaotic lifestyles and difficulties building a trusting and effective relationship with the practitioner.

We have spoken to probation practitioners and service users to learn from them the most effective approaches to working with this age group. This guide includes:
Practical suggestions to assist probation practitioners in their day-to-day work with this age group

Information on the specific issues facing young adults and how they impact on their engagement with probation, including maturity, trauma, health needs and the development of life skills

Guidance on how to tailor services to specific groups of young adults with particular needs such as women, black, Asian and minority ethnic young people, those with disabilities and care leavers

Views of young adults themselves on what they feel makes a good probation officer

Measures that managers and commissioners can take to enable effective engagement of young adults and adapt services where

necessary

Examples of how different probation services have adapted their approaches for young adults.