Logo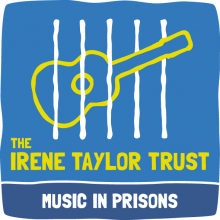 The Irene Taylor Trust 'Music in Prisons' delivers creative music projects which focus on the creation of new and innovative music. Projects are accessible to everyone regardless of musical experience, and aim to raise the self-confidence and aspirations of men, women and young people in prisons and those in the community who may be at risk of coming into contact with the criminal justice system.
---
Contact
Address
35-47 Bethnal Green Road
London
Greater London
E1 6LA
United Kingdom
Email
sara@irenetaylortrust.com
Website
https://irenetaylortrust.com
---
In Brief
Organisation type
Voluntary and Community Sector
---
Contract History
Supporting information
The aim is that our interventions will empower individuals with the skills, self-confidence and motivation to overcome past difficulties and take control of their futures.
Music in Prisons uses the creation of original music to reveal the full extent of people's untapped potential, giving them a fresh perspective on their own ability which they can take forward into other areas of their lives.
Positive outcomes include; the development of new skills and qualifications; increased confidence and self-esteem; resilience and mental well-being; improved relationships; greater social, cultural and economic capital; enhanced knowledge of other partners/services and progression routes into education, training and employment. Projects are expertly constructed to provide positive learning experiences that can act as a vital catalyst in the process of rehabilitation and reintegration, helping to nurture the skills needed for individuals to become valuable members of their communities.
---
Regions
East
East Midlands
London
Lambeth
North East
North West
South East
South West
Wales
West Midlands
Yorkshire and the Humber
---
---
---
People you work with
Men
Prisoners with short sentences
Serious offenders
Women
Young people
---
---
---