Logo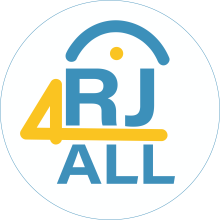 The Restorative Justice for All (RJ4All) International Institute is a charitable NGO with a mission to advance community cohesion and human rights. We redistribute power in a more equal way by delivering social justice projects, educational programmes and high quality volunteering opportunities to the most marginalised groups of society.

We do this by using the power of education, sports and art, as well as the practices (mediation, conferencing, circles, dialogue, workshops) and values of restorative justice including power sharing, fairness, equality, dignity and respect.
---
Contact
Address
30 Plough Way, The RJ4All Rotherhithe Community Centre, Greater London, SE16 2LJ, United Kingdom
---
In Brief
Does the organisation involve volunteers with experience of the criminal justice system?
Organisation type
Community Interest Company
---
Regions
East | East Midlands | London | South East | North East | North West | South West | Wales | West Midlands | Yorkshire and the Humber
---
Fields of Work
Advice & advocacy | Arts | Attitudes, thinking and behaviour | Collaboration and partnership working | Covid-19 | Domestic & sexual violence | Education | Employment | Evaluation and effectiveness | Infrastructure | Lobbying & campaigning | Mediation | Mental health | Mentoring & befriending | Other | Peer support | Personal development | Probation reform | Race | Relationships | Research & academia | Resettlement | Restorative justice | Lived experience involvement | Sports | Training | Volunteering
---
People you work with
Racially minoritised people | People convicted of sexual offences | Victims | Young people
---
---
---
---