Logo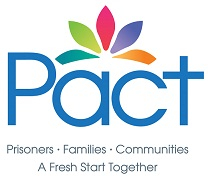 Pact is a pioneering national charity that supports prisoners, people with convictions, and their children and families. We provide caring and life-changing services at every stage of the criminal justice process: in court, in prison, on release, and in the community, based on a public health model of practice.

We work in more than 60 prisons and provide prison-based family engagement and social workers, Visitors' Centres, visitor support, supervised play, catering, family activities, relationship and parenting education programmes, court and community family support, resettlement support and community-based mentoring and befriending programmes. Our volunteers and staff can be found in courts, prisons, probation services, and in communities across England & Wales.

We also run the HMPPS contracted national Prisoners' Families Helpline which can be reached seven days a week on 0808 808 2003.
---
Contact
Address
29 Peckham Road, Greater London, SE5 8UA, United Kingdom
---
In Brief
Does the organisation involve volunteers with experience of the criminal justice system?
Organisation type
Voluntary and Community Sector
---
Regions
East | East Midlands | London | South East | North East | North West | South West | Wales | West Midlands | Yorkshire and the Humber | Remote
---
Fields of Work
Advice & advocacy | Attitudes, thinking and behaviour | Case management | Collaboration and partnership working | Education | Employment | Evaluation and effectiveness | Faith | Holistic services | Lobbying & campaigning | Mediation | Mental health | Mentoring & befriending | Sentence management | Other | Parenting skills | Peer support | Personal development | Prison reform | Prisons | Relationships | Research & academia | Resettlement | Restorative justice | Lived experience involvement | Suicide and self-harm | Through the gate | Training | Visitors centre | Volunteering
---
People you work with
Children | Families | Men | People on a short sentence | People convicted of serious offences | People convicted of sexual offences | Women | Young people
---
---
---
Prisons
Askham Grange (YOI) | Aylesbury | Belmarsh | Berwyn | Brinsford | Bristol | Brixton | Bronzefield | Bullingdon | Cardiff | Channings Wood | Coldingley | Dartmoor | Downview (YOI) | Drake Hall (YOI) | East Sutton Park (YOI) | Eastwood Park (YOI) | Elmley | Erlestoke | Exeter | Featherstone | Feltham (YOI) | Ford | Foston Hall (YOI) | Gartree | Grendon | Guys Marsh | Hatfield | Hewell | High Down | Huntercombe | Isis | Leicester | Lewes | Leyhill | Lindholme | Long Lartin | Low Newton (YOI) | Lowdham Grange | Maidstone | Moorland | New Hall (YOI) | Nottingham | Oakwood | Onley | Pentonville | Prescoed | Ranby | Send | Spring Hill | Standford Hill | Stoke Heath | Styal (YOI) | Sudbury | Swaleside | Swansea | Swinfen Hall | Thameside | The Mount | The Verne | Usk | Wandsworth | Whatton | Woodhill | Wormwood Scrubs
---
Probation Areas
Devon & Cornwall | Greater London | Greater Manchester | Kent | Surrey & Sussex | Wales