Logo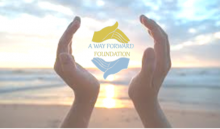 A Way Forward Foundation offers counselling and mentoring support to children, adolescents, adults and their families in King's Norton and the surrounding areas of Birmingham: anyone who has mental health issues and concerns. Its mission is to promote their well-being by providing accessible, cost-effective, quality mental health care for them, aiming to reduce both their isolation and their dependency on public services, and to increase their self-esteem and confidence, and thus their quality-of-life. The Foundation aims to provide outdoor activities that will build confidence, motivation and team building, and offers mentoring to children and young people, providing emotional guidance, a sense of continuity and stability.

---
Contact
Address
The Citadel, Suite 4-5 , 190 Corporation Street, West Midlands, B4 6QD, United Kingdom
Email
info@awayforwardfoundation.co.uk
---
In Brief
Does the organisation involve volunteers with experience of the criminal justice system?
Organisation type
Voluntary and Community Sector
---
---
Fields of Work
Advice & advocacy | Counselling | Domestic & sexual violence | Family support | Mental health | Mentoring & befriending | Parenting skills | Resettlement | Volunteering
---
People you work with
People on a short sentence
---
---
---
---