Logo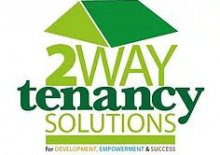 2 Way Tenancy Solutions works with clients who are threatened with homelessness. We take a holistic approach to understand and address the root cause of their problems. Support is delivered through our financial capability programme which aims to equip beneficiaries with life skills needed to sustain and maintain their home. Our Reconnecting Communities Programme is aimed at people who are threatened with homelessness, suffer from mental health and have a substance misuse problem and a history of offending or are at risk of re-offending. Support is delivered to reduce the risk of violent offending and understand the root cause of the offending.
---
Contact
Address
Greensfield Business Centre , Mulgrave Terrace , Tyne and Wear, NE8 1PQ, United Kingdom
Help Line No.
07557 514 078 (outside office hours)
---
In Brief
Does the organisation involve volunteers with experience of the criminal justice system?
Organisation type
Community Interest Company
---
Regions
North East | Tyne and Wear (Met County) | Gateshead | Newcastle upon Tyne | South Tyneside
---
Fields of Work
Advice & advocacy | Education | Employment | Finance, benefits & debt | Holistic services | Housing & homelessness | Mental health | Mentoring & befriending | Training
---
---
---
---
---