We have been conducting our annual survey of voluntary sector organisations who work with people in contact with the Criminal Justice System and their families for the last five years to collect information about: how healthy the sector is, whether there are existing or emerging challenges, the impact of recent commissioning and policy changes, and the wellbeing of clients.
We ran our last survey in June and July 2015 and worked with the Learning and Work Institute on the development of the survey questions and the weighting of the data to ensure it is as representative as possible. 
We have just published our latest state of the sector report, which you can download here.  Thank you to all the organisations who took the time to share their experiences with us, and share the experiences of their clients. In this blog I want to highlight some of the key things that we learned this year.
What did we find?
The needs of clients have changed and have become more severe
The majority of organisations told us that the severity of their clients' needs has increased in the last financial year. This led many organisations to develop and deliver new services to respond to changing service user need; demonstrating the flexibility and vibrancy of the voluntary sector working in criminal justice.
Many organisations continue to face financial insecurity
More organisations told us they are at risk of closure compared to last year and nearly half of organisations are using their reserves. This makes it likely that for some organisations this will mean that they will close, but for those that don't, this can put strain on staff and lead organisations to respond to immediate issues rather than being able to strategically plan for future challenges.
Very few organisations achieve full cost recovery on their contracts
Grant funding continues to be important but organisations are also reliant on contracts. However, organisations are unlikely to achieve 'full cost recovery' on the contracts they deliver. This is leading to some organisations having to subsidise their work, through either using their reserves or accessing alternative funds, whilst others are scaling back their services and making staff redundant.
Service user involvement needs to be increased
Hearing and responding to the views of clients enables organisations to improve the design and delivery of services that meet the needs and aspirations of the people they are supporting. Just over a third of organisations reported that they have consulted service users about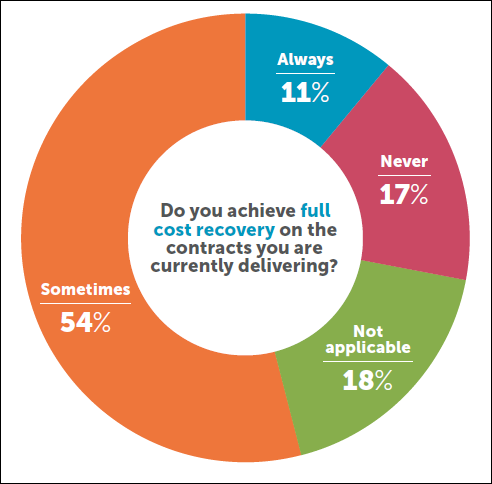 the design and delivery of their services in the last financial year and Clinks would like to see an increase in the number of organisations running good quality and meaningful service user engagement. We have just published a guide to service user involvement and co-production which gives practical tools to develop an involvement programme and approach which places service users at the heart of your organisation.
Volunteering remains important but retaining volunteers can be challenging
Volunteers continue to be vital for the sector, with many organisations increasing their reliance on volunteers to respond to the changing needs of their clients; but retaining volunteers can be challenging. Some organisations report that they struggle to balance the demands of training volunteers with the short-term involvement that volunteers can sometimes have with their service.
The sector continues to be diverse
The survey responses show that the voluntary sector continues to be diverse – in terms of its size and the services it provides, as well as the geographical locations served. The majority of organisations work either locally or regionally rather than nationally and most are small and employ less than 50 members of staff.
What next?
We will consider what the survey tells us in relation to each of our current areas of work and whether we need to make any changes so that the sector can be better supported and will focus on:
How criminal justice organisations can raise sufficient funds while not using disproportionate amounts of time and resource in doing so, especially if that funding is needed just to continue to run daily services
Looking at ways in which the sector can better support and utilise volunteers as a key resource
Supporting service user involvement – at all levels in the sector.
If you would like more detail about the key findings, you can download the full report here
If you have any comments about the initial findings from the report or would like to share your story with us - we would love to hear from you. Please leave a message below or contact me at Nicola.drinkwater@clinks.org