Today sees the launch of Critical Friends, an independent review of services provided by specialist criminal justice infrastructure organisations like Clinks, Action for Prisoners' and Offenders' Families, Women's Breakout, National Alliance for Arts in Criminal Justice, and Black Training & Enterprise Group (BTEG).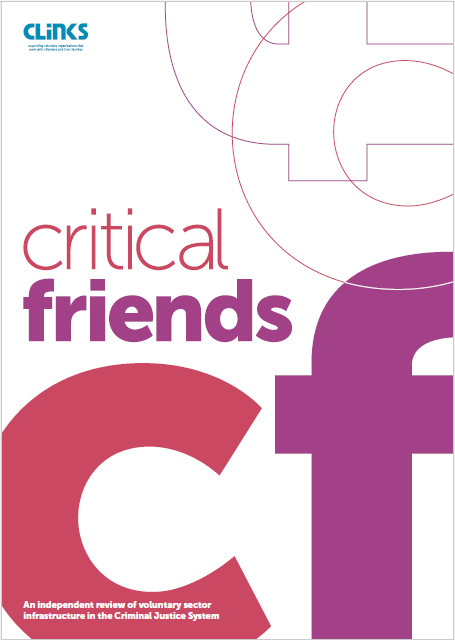 The independent panel, which was similar to the Independent Commission on Local Infrastructure that NAVCA convened, was informed by a survey, face to face evidence sessions from a number of key stakeholders, and four workshops that focussed on women's services, family services, Black, Asian, and minority ethnic organisations, or generic criminal justice related organisations. We would like to thank the 157 organisations for their time and views, and for supporting the future direction of organisations like ours, as well as Government's relationship with criminal justice voluntary sector infrastructure.
We were heartened to hear that organisations are largely happy with the services Clinks delivers, but we also need to make some changes. The panel reflected that stakeholders saw the value of infrastructure and welcomed its role as a critical friend between the diverse interest of the voluntary sector, and the range of government departments with responsibility to support people in the Criminal Justice System and those at risk of offending.
The independent review was clear that there's no excuse for stagnation or complacency, especially as the political, economic, and operational realities change around us. We know that funding for infrastructure services is reducing, but we must keep doing the right thing, rather than being led by available funds. Fundamentally, we need to be led by our members, listen to local experiences, learn from them, and act as appropriate.
The independent panel reflected that government needs to make the most of their relationship with infrastructure, recognising its independence and value as a conduit to a large and complicated voluntary sector that fundamentally underpins the effectiveness of rehabilitation and resettlement services in the Criminal Justice System. 
The report makes ten recommendations in total, five for infrastructure organisations like Clinks (which I think makes essential reading for any membership organisation), and five for government. I decided to put them into my own words, giving my own interpretation of the recommendations; they are listed below:
What infrastructure organisations should do…
Don't rely on the same old funding streams and get creative if you want to thrive
Be genuinely member led, put forward diverse perspectives, and make sure your members know what you're doing and why you're doing it
Make sure you have an excellent policy team that can translate Government policy into plain English that helps the voluntary sector to understand it, and then challenge or support policy where necessary
Be nimble and attentive so that you can change with the voluntary sector. You will need to make the best use of expert colleagues (wherever they are) by working together in an open and honest way
Make sure that you've got your own house in order, with the right governance and policies, and a culture of being accountable for your actions and telling your members what you do
What government should do…
Get behind good quality support for the voluntary sector, and make sure it's delivered by specialists that are well placed to do it and know what they're doing
Improve the relationship between government and the voluntary sector by ensuring good (and clear) communications between key government officials and staff in infrastructure organisations
Involve infrastructure organisations in high-level strategic decision making
Allow infrastructure organisations to be independent and member led
Government should provide an element of core funding to infrastructure organisations to help their long-term sustainability
The independent review couldn't have been conducted without the kind support of a dedicated panel of professionals from the sector. We would like to thank Debbie Pippard (Barrow Cadbury Trust & chair), Rod Clark (Prison Education Trust), Pauline Crowe (Prisoners Abroad), Janet Crowe (Prison Reform Trust), Clare Jones (WomenCentre), Lucy Perman (Clean Break), Simon Fulford (Khulisa), and Mark Woodruff (The Monument Trust). They oversaw the collection of all the evidence, and also took evidence from a range of government officials and private sector representatives.