In this Clinks Guest Blog, we hear from Simon Shepherd at Butler Trust who has just launched a new website that will undoubtedly be a geat resource for the sector.
Good-Practice.net
The Criminal Justice System is full of people doing excellent work in really difficult circumstances, yet they rarely get any thanks for what they do. The Butler Trust Annual Awards, which have been going for 30 years now, are designed to help ensure people get the credit they deserve*.
We have now launched a new website – Good-Practice.net – dedicated to tackling the related, and just as important, challenge of sharing good practice across the prison, probation, and community justice and youth justice systems. 
When I worked in the Prison Service (rather longer ago now than I care to remember), I was often struck by how helpful it would be, but how difficult it actually was, to find out about good work happening elsewhere, and to make contact with colleagues who might be able to help me in my role.
When I was tasked with setting up the original Incentives and Earned Privileges scheme at Wandsworth, for example, I really wanted to be able to pick the brains of people given the same task in other jails, and to find out about any schemes which were considered to be good examples to follow - but it was a lot easier said than done.
Our new website, which has been over 18 months in development, includes a suite of tools designed specifically to make sharing more straightforward.
Good Practice Directory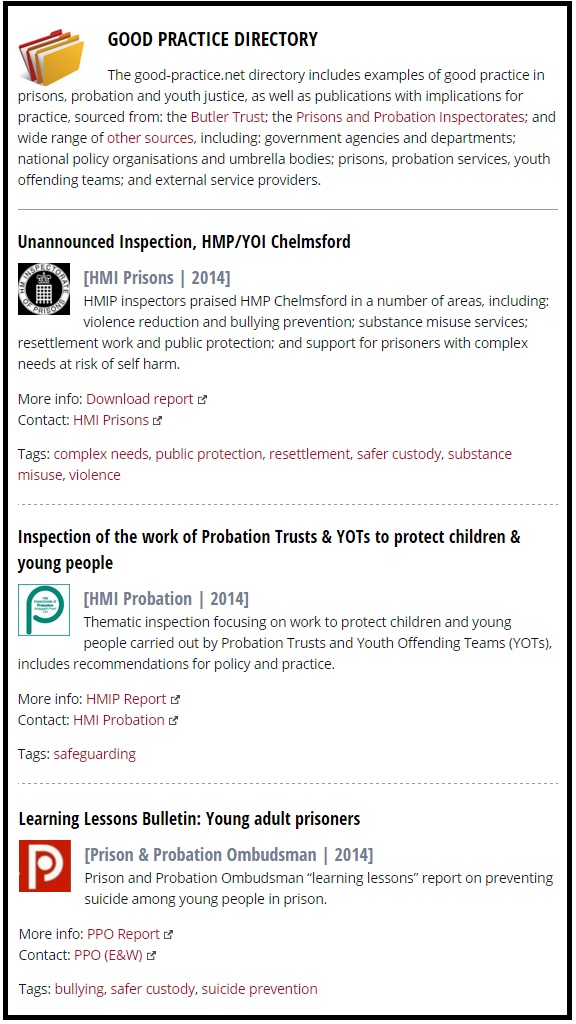 The Good Practice Directory is a database with examples of good practice and practical guidance from across the country, drawn from The Butler Trust Awards, prison and probation HMI inspections, and reports and articles by government departments and agencies, umbrella bodies, and frontline services (including prisons and probation providers).
To help people find what they're looking for, the database can be searched by content, tags, categories and sources.  And there is a submission form to make it easy for organisations to add examples of good practice themselves.
Practitioner Directory
The Practitioner Directory includes a searchable listing of people with a range of skills and areas of expertise. It is designed to make it easier for people to make contact with colleagues who might be able to assist them in their role, and provides an opportunity for people working in the field to share their expertise more widely.
If you haven't already done so, please do think about adding yourself to the list. The more people we have on it, the more useful it will be.
Inspire Publications
The Inspire section holds an archive of The Butler Trust's Inspire publications: Inspire Magazine, which details The Trust's Award Winners and Commendees, and the work for which they were recognised; and Inspire Too, which provides an accessible way to explore the content and materials covered in The Trust's best practice workshops.
Directory of Independent Sector Agencies

As you will probably already know, the Clinks Directory of Offender Services includes a searchable listing, by subject area, of over a thousand voluntary and community organisations working in the field. It's a great example of good practice itself, so rather than try to reinvent the wheel, we decided to include a prominent link to it from the site, to help publicise it more widely.
How you can help
We hope you like the site and find it helpful. To make it more helpful still, we would be really grateful if you would:
add any examples of good practice from your organisation that you are willing to share freely with others in the CJS;
add yourself, and you areas of specialist knowledge and skills, to our searchable listing of criminal justice practitioners;
let your colleagues know about good-practice.net, and encourage them to make use of it;
let us have your thoughts about the site, and any suggestions you might have on how we can improve it.
Simon Shepherd
Director, The Butler Trust
________
* If you are not familiar with the Butler Trust Awards, that's probably our fault for not communicating with the voluntary and independent sector as well as we might. Please do have a look at the Awards section of our website – www.ButlerTrust.org.uk – for more information, and maybe we'll see you at the Palace one day!