It's been just over a month since Clinks' annual conference 2019 on the 9th May. The event started with performances from one of the newest organisations in the sector – Sing Inside. One of the pieces – a trio of gorgeous voices performed in wonderful harmony – was The Parting Glass. I know this song well, it's an Irish "trad" staple. It was a favourite song of my late "Da" and I've heard it more times than I could or would ever count. It's a piece of music that always puts me in a reflective and thoughtful frame of mind. As I've had it playing in my head over and over these past few days I've been reflecting on the conference itself and hence I've taken a line from it as the title of this blog.
The intention for us in putting together the programme for our annual conference is always to provide organisations with an opportunity to connect with one another and learn about the work of others and bring learning back to their own organisations. We are always conscious of the immense pressure those organisations we exist to serve are under – financial pressures, time pressures to name but two. So we aim to give them an event every year which is good value for the time and money they'll need to invest to attend.
We aim to provide an event that is useful in equipping organisations with new tools, knowledge and contacts for their ongoing work. We also want it to be a good day out – out of the office, away from the day job, with their head lifted from their daily work. We want them to be able to take a breath, take a moment, take in new information and think rather than just always having to do, do, do.
Creating change together
This year we chose the title of Clinks' strategy as the theme and title of our conference, Creating change together. We structured the day to showcase the work of the sector. We wanted to connect people and organisations with others who they would benefit from learning from and working with. We wanted to highlight the evidence and the practice which is helping to achieve improved outcomes for people in the criminal justice system – or at least shows potential to do so. We wanted to enable discussion and debate on thorny issues and taboo topics and to do so not just among ourselves but with those we need to work with. This includes the academic community, statutory organisations and above all those for whom the sector was founded – people in the criminal justice system and their families.
We had more requests to run workshops than we could squeeze into the time or space and lots on offer throughout the day. And we'd a full house.
Personally, I had a wonderful day. I love these events. I get to meet so many members and although there's never enough time to talk in depth there's time to have a quick hello, catch up and check-in and to meet new members. I met our two newest member organisations, Enneagram UK and the aforementioned Sing Inside. I also get inspired by hearing the questions to the panels, the presentations in workshops and the questions and comments these provoke. It helps me think about what you need from us, what you need us to do, and what you need us to encourage others to do more or perhaps less of!
Although it wasn't the launch event for our strategy – it was the first time we came together since we started to roll it out. It feels like we're well and truly out of the blocks now, all part of the same team – focussed on the goal.
What strikes me most whenever we all get together is that however different the organisations and approaches, and the part of the country in which they work and the specific group of people they work with and for, there is so much that we have in common.
 The atmosphere in the hall was at times quite electric. It was warm, convivial, people greeted each other with hugs, nodded knowingly at one another's comments and remarks in Q&A sessions and it felt that no matter how sometimes we might feel isolated and crawling uphill, in fact we're part of something bigger. A movement for change.
We all have so much we know we still need to do – too many people need better services and support and alternatives to the services on offer to meet their specific needs. People's lived experience of the system, and indeed of the sector's own services, isn't always valued enough. There is an unacceptable level of racial inequality in the criminal justice system and the services to meet the specific needs of women and people who face multiple challenges in their lives are woefully and inadequately resourced and prioritised. The list goes on!
We're keen to learn from you
We know we've still a lot more to do at Clinks to meet the needs the sector has in order to be at its most effective. We're keen to learn from you during these next three years ahead.  We've launched our 2019 state of the sector survey - an essential moment for us every year.  We know you're busy, we know time is pressurised and precious but without knowing how you're doing, what you need, what's happening in the part of the country or the sub-sector you work in, we can't respond well. We can't do what you need us to do.
We are developing an online accessible evidence base with commissioned summaries of evidence on key topics of interest in the criminal justice system. We want to know, as part of our strategic commitment to "Support the sector with access to evidence and provide support to develop and utilise evidence", the topics you would like to see accessible summaries of evidence produced on. We're working with Russell Webster to produce these and we want to start with subjects you'd see as a priority. We had lots of responses on the day to our poll and the options are below.  Please do feed in your thoughts if you haven't already – email us at info@clinks.org
I hope to see some of you during the year at different events, meetings, roundtables and lots of you at the State of the sector report launch and our AGM in York on 21st November. Until then, as the last line of The Parting Glass goes, "Good night and joy be with you all".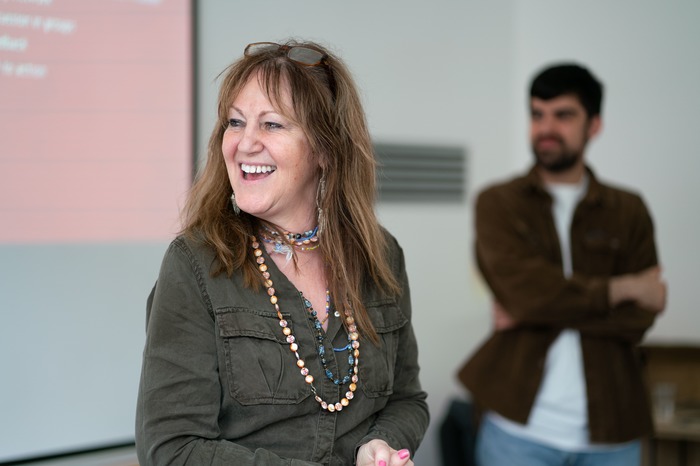 The topics you would like to see accessible summaries of evidence produced on
The desistance model - 32%

A gendered approach to working with people who have offended - 28%

Working with older people who have offended - 9%

Procedural justice - 6%

Trauma informed work with people who have offended - 38%

Working with the children of prisoners - 8%

Violence reduction approaches - 11%

A public health approach - what is it and what is the evidence base? - 25%

Diversion at point of arrest - 15%

The role and value of the voluntary sector in criminal justice - 26%

Evidence in appropriate interventions to address disproportionate and unequal outcomes for BAME people - 28%

Cost-benefit of voluntary sector support in criminal justice - 28%

Learning disabilities & difficulties and Autism - 4%

Co-production - 25%

Farrall et al work on Thatcher years policies and impact on crime levels - 2%

I want something else please (please write your suggestion and leave it at the conference registration desk or email

info@clinks.org

) - 2%
Really enjoyed my first @Clinks_Tweets conference and have come away bursting with ideas #creatingchangetogether

— Sarah Hare (@SarahBoswell1) May 9, 2019
I have goosebumps listening to Paula Harriott @PRTuk deep and thought provoking. Thank you. #creatingchangetogether

— Black Training & Enterprise Group (@BTEG_LDN) May 9, 2019
Fascinating presentation from @tobyjlowe about Human Learning Systems #creatingchangetogether

— Richard Rowley (@RichARowley) May 9, 2019