'Family Snapshots' is an occasional series of articles based on interviews with prisoners or their partners and families about the impact of imprisonment on family ties.
Bobby is 30-years-old. He was born in Congo but has lived in London for the vast majority of his life. When he lived outside of London, it was because he was in prison. He is a gifted footballer and had the opportunity to play professionally but his opportunities were cut short by his prison sentences. He is now the founder of Hackney Wick Football Club, a project successfully uniting local people to get fit and play football in their local league. He was recently featured on the Channel 4 documentary 'The Secret Life of Prisons'.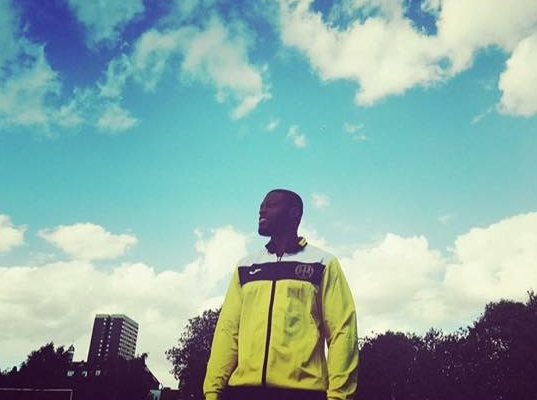 So how did Bobby end up spending most of his twenties in prison?
Bobby tells me that his father trained at the Military Academy in Sandhurst then returned to Congo to work in banking. Bobby is one of twenty siblings with six mothers, some living in Congo, some in the UK. As a young child, Bobby was sent to live with his uncle, aunt and cousin in Peckham, in south London, and looked on them as his parents.
"The gang members were the local superstars"
As a teenager, he became involved in gangs. The local gang members flaunted their wealth; he says they were the equivalent of rich footballers. His aunt and uncle had no idea because he was doing well academically. It felt almost natural to drift into that world. If you were from a certain estate, you were affiliated with that gang by association. And often the other young men were friends and relatives.
When Bobby was seventeen, things reached a head. He was involved in street crime but also studying for four A-levels at college and working part time. Family tensions led to him moving out of the family home and he gradually found himself financially supporting some family members, as well as himself. His college work suffered and eventually he dropped out to work.
"That money's mine"
One night, Bobby was at a friend's house and the friend showed him the biggest wad of cash he had ever seen. His friend was part of a gang that robbed security guards carrying cashboxes. The argument was that if the robbery was unarmed, the risk was worth it as the sentence was shorter. Bobby became the getaway driver and the money he was 'earning' made him feel like a star footballer. He tells me that for every crime, there is a warped justification – that it is victimless, no one is hurt. That, he knows now, is wrong.
Tragedy struck as the gang imploded. Bobby's friend was stabbed to death and the 15-year-old brother of a gang member was mistakenly murdered in revenge. Bobby was initially treated as a suspect for the second murder but it was soon clear that he was not in any way involved. Two young men were subsequently convicted of the murder and sentenced to thirty years imprisonment.
'Tough African love'
Eventually Bobby was caught for robbery and sent to HMYOI Feltham.
Was he frightened of violence?
No, because there was so many other young men there from his area and he felt protected. But he lived for letters and photos from the outside world.
Released on bail, he continued to commit offences and was eventually sentenced to five years imprisonment. He served two and a half years, mostly in HMP Rye Hill in Rugby. By this time, he was a father and managed to see his baby daughter on some visits. His immediate family were less supportive. The uncle and aunt he considered as his first parents did not visit him at all. His biological parents visited a few times. Bobby describes it as 'tough African love'. 
When he was released in 2010, he convinced himself he had to change. He was signed up for a football team and had a part time job, but he was lured back to the idea of fast money and accepted his cousin's offer of driving a getaway car. He was in prison from January 2011 to February 2015, mostly in London, but also Winchester, Isle of Wight and Ford in Sussex. He tells me about the extreme violence and bullying he witnessed in Isis as young men from gangs across London squared up to each other. The trade in contraband such as mobile phones escalated the violence. Phones could be sold from between £200 to £700. Bobby shows me the scar on his face from where he was attacked for demanding his money back after the phone he 'bought' did not materialise. Prisoners mainly want phones, he tells me, to contact their families.
"When my brother got married, I was an emotional wreck"
Bobby was entrepreneurial. In some prisons, he set up a shop and a casino. The income from Bobby's enterprises was vital as his family did not send in money. Prison food is not substantial and unless you can buy additional food and snacks, you go hungry. If your family don't send in clothes, other prisoners soon notice.
It was impossible for anyone to visit him when he was in HMP Camp Hill on the Isle of Wight. He was only moved back to a London prison when HMP Camp Hill closed as the remaining Isle of Wight sites were recategorised to hold men convicted of sexual offences.
Bobby was determined to attend his younger brother's wedding in 2014 having missed another brother's wedding after being caught with a mobile phone in prison. He hadn't seen his family for such a long time, including his grandma who he feared may pass away before he saw her again. It was an intensely emotional experience, especially as he had to leave early to return to prison.
'You don't need money'
When Bobby left prison last time he was determined not to return. He has started an Open University degree and was an accomplished writer. However, finding appropriate accommodation itself was a challenge, separating himself from any friends or family members that could tempt him into reoffending. His salvation was football. Combining his entrepreneurial skill and passion for the game, he established Hackney Wick Football Club. His initial focus was young men on the margins of criminal activity, but now it is home to a number of teams including youth teams and a women's team.
Bobby is strengthening his relationship with his daughter. His daughter's mother was positive about maintaining the relationship even though she and Bobby were no longer together. Bobby's mother also made sure her granddaughter had contact with Bobby. The challenge to spending time with his daughter is now the all-consuming nature of the club.
And how is his relationship with his parents?
It is harder to build bonds with his father. He sees the warmth between other fathers and their sons, but when he is with his own father, sometimes he is not sure what to say.