In the heart of East London, close to the famous Spitalfields market, you can find the Café from Crisis. Just one of an array of characterful coffee shops in this area but one with a difference: it's staffed by people who are homeless or are resettling in the community after a prison sentence. While homeless charity Crisis refers their service users to the café through their Job Coaches, the rest of the trainees are supplied by Clinks member organisation, Switchback, a small rehabilitation charity working with young men leaving prison in London.
In January, I met with Switchback mentor Kat and Switchback trainee Abdul to learn more about what the organisation does.
Switchback was established in 2008 after extensive research by one of its founders identified the primary importance of providing a stable and consistent relationship in preventing re-offending by individuals leaving prison. It delivers an intensive through the gate programme, providing self-referred young men with holistic support on release from prison, with the aim of eventually getting them into stable and positive employment or education.
Switchback's mentoring process begins when the trainee is still in prison. All trainees choose to take part and must be able to explain their reasons for wanting to participate. One of Switchback's full-time mentors will then meet the trainee regularly in the months leading up to their release to find out more about their needs and their aims for life after release. Kat explained to me that this part of the process was the most important. This is an opportunity for the mentor to gain a thorough understanding of what the trainee hopes to achieve and any challenges they are anticipating on the way, allowing Switchback to develop an individualised programme of support. 
Mentors then meet with trainees after their release and trainees begin working part-time at the Crisis café, where they are supported by their Switchback mentor to develop the skills needed to be successful at this role. A trainee's week will consist of two days' work at the café, at least one meeting with their mentor and a trip or activity arranged by Switchback – this could be a CV writing workshop, a visit to a company or just a social trip to one of London's many tourist attractions. All of this gives trainees routine, social connections and motivation, as well as broadening their horizons through exposure to new experiences.
An unusual aspect of Switchback's model is that support is not time-limited. Mentors will work with trainees for as long as they request the support and continue to engage. Some trainees come back to the organisation months or even years after having moved on, due to experiencing further hurdles in their lives. Switchback mentors are able to give the guidance and support they need to get back on track and avoid further difficulties that could lead to recall or re-conviction.
All of this is underpinned by Switchback's theory of change, which is based upon flexible and holistic support from one, consistent point of contact in order to make trainees' desire to change their lives a reality.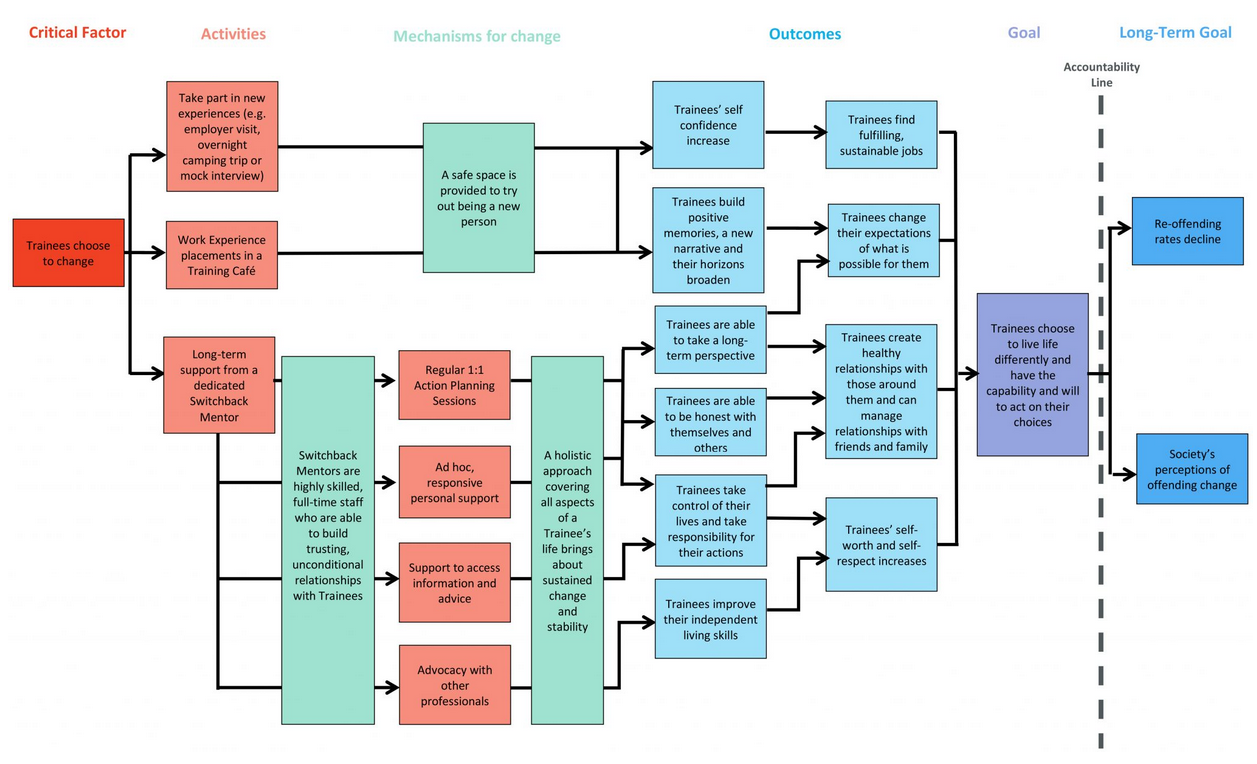 Switchback trainee Abdul was upfront in saying that this programme isn't necessarily for everyone. "You have to have a strong state of mind," he said. It's vital for trainees to have clear goals and be motivated to work towards them. For Abdul, being around other people who want to change is one of the most important aspects of working with Switchback and helps him stay focused day to day. However, he also discussed the importance of Switchback mentors in maintaining that motivation. In the face of structural barriers and societal stigma, it is invaluable to have someone who not only believes you can achieve your goals but can also show you how.
Abdul was going from our meeting to an interview for a course in business, in pursuit of his aim to set up his own company. Although understandably nervous, he seemed confident and well-prepared. The most useful advice his mentor had given him, he said, was about how to disclose his convictions. Without this, he might have assumed from the get go that he wouldn't be accepted onto the course and never have made the application.
Just under ten years on from its inception, Switchback now has a wealth of evidence for the success of its model. 78% of trainees who have been through the programme have started a permanent job and 59% have achieved what Switchback terms 'stability' – a level of achievement and security in a range of key areas including relationships, accommodation and mental health. The significance of these achievements is clear when placed in the context of trainees' starting points: 42% have never had a job before, 53% have alcohol or substance misuse problems and 40% leave prison homeless.
The aim for the organisation now is to spread the word and help to grow this model. With ongoing discussion both inside and outside government on how to improve probation and resettlement support, the voices of successful organisations like Switchback will be crucial in the coming months and years. Policy-makers should take advantage of the expertise that these organisations can offer and ensure they are included in the conversation.
Side-note: The food at Café from Crisis is excellent – drop by 66 Commercial St, E1 6LT to try it.