Back to job board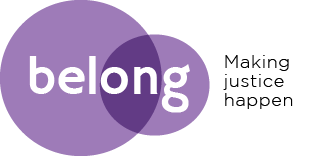 Belong - Making Justice Happen
Capital Office, Kemp House, 152 - 160 City Rd
London
Greater London
EC1V 2NX
United Kingdom
More organisation info
---
Salary (full time equivalent)
Location
Home, with occasional travel to UK prisons and community locations.
Belong's vision is of hope, rehabilitation and recovery for victims and perpetrators of crime. Our mission is to inspire change by providing long term, individualised responses to conflict and crime through restorative Justice, psychotherapy, mentoring, and training for criminal justice professionals.
Growing steadily from our London based beginnings, we now support over two thousand people who have been victims or perpetrators of crime across England each year. This year we are working from a range of prisons including HMPYOI Isis, HMPYOI Feltham, HMPYOI Brinsford, HMP The Mount, HMP Coldingley, HMP Featherstone, HMP Brixton, and HMP Send. In addition, we deliver restorative justice, mentoring and psychotherapy in a range of community settings.
Belong fosters a working environment where everyone's voice is listened to. The culture of the organisation is one that puts people first and the charity enjoys high staff morale and good staff retention. We will provide you with the support and training that you need to do your job, as well as opportunities to develop your skills and progress within your career. We have recently launched our strategy for 2022 – 2024. This outlines our ambitions to continue to sustainably and ethically grow our reach so that we can offer powerfully unique change opportunities to even more people.
Please read more about us and our work on our website, being sure to enjoy our 2020-21 annual report which you can find on our publications page at Belong - Making Justice Happen (belongmakingjusticehappen.co.uk). You may also enjoy listening to our recent BBC Radio Four charity appeal BBC Radio 4 - Radio 4 Appeal, Belong: Making Justice Happen.
We are seeking an organised, inspiring, and empathic Development Manager with experience of working in the criminal justice sector, preferably including prisons, to work with our Head of Development to develop our fundraising and communications functions. The successful candidate will have excellent verbal and written communication and fundraising skills.
The successful applicant will be able to demonstrate a track record of communicating effectively with a range of partners and stakeholders within the criminal justice and/or charity sectors. Supported by our Head of Development, they will have the opportunity to support and implement Belong's fundraising and development plan. They will model our values of perseverance, respect, inspiration, restoration and empowerment.
Post Title: Development Manager                                                                                         
Place of work: Home, with occasional travel to UK prisons and community locations.
Hours of work: 28 hours per week
Pay scale: NJC Principal Officer 2, spinal point 38, £35,500 pro rata
Reports to: Head of Development  
Contract length: 12-months, with potential for renewal dependant on excellent performance and available funding.
Responsibilities 
Develop, deliver and maintain a grants and contracts fundraising plan for Belong, in line with our strategy and corporate plan.

Conduct research into grant and contract opportunities in order to identify 5 and 6 figure opportunities that are relevant to Belong's strategic aims.  

Write tailored, inspirational, high quality applications for grant and contract opportunities to trusts, foundations and public bodies.  

Liaise with Belong's management and staff teams to plan and develop the strongest possible applications and build relationships with funders.  

Work collaboratively with Belong's Senior Management Team to provide impact and evaluation reports to funders.  

Work with our Head of Development and to devise and update a database of past and present grant and contract funders.

Implement Belong's Communication strategy, including supporting on developing social media, website and newsletter content.

 

Provide support to fundraising staff and/or volunteers where appropriate.   

Participate actively in line management meetings with Belong's Head of Development, and in between line management meetings, provide updates of progress and of any issues arising, in order to receive advice and guidance. 

Adhere to Belong's Code of Conduct and its policies, in particular those on Safeguarding Vulnerable Adults and Children, Anti – Corruption, Anti – Bribery, Complaints and Comments, Confidentiality and Single Equality. 

Undertake any other duties as may be appropriate to the level and nature of the post as determined by Belong's Director and Trustee Board.     
Required Knowledge, Skills and Experience  
Knowledge of therapy, mentoring and restorative justice interventions and their relevance to people who have been convicted of and/or been a victim of criminal offences. 

Thorough grasp of the issues that may be faced by people who have been convicted of and/or been a victim of criminal offences, and the relevance of psychotherapy, mentoring and/or restorative justice interventions in helping to address these issues.

Demonstratable understanding of and commitment to Belong's strategic aims and values.  

Three years' experience of working within the criminal justice sector, preferably including reporting or fundraising experience.  

Excellent writing and research skills  

Excellent communication and listening skills.  

Excellent organisational skills. 

Ability to build and maintain relationships with key stakeholders e.g. voluntary sector organisations, funders, public bodies. 

Ability to work independently and use initiative. 

Ability to develop and maintain office management systems. 
Required Personal Attributes 
Honest 

Resilient  

Hard working  

Organised 

Self motivated  

Confident  

Non-judgmental 

Flexible 

Reliable

Committed to confidentiality and equal opportunities

Willing to learn and develop
---
How to apply for the job
Please apply for this position by emailing us on enquiries@belonglondon.com with a detailed covering letter outlining how you meet the skills, experience and knowledge requirements outlined in our Job Description and Person Specification document. Please also send us your CV. Alternatively, you can apply via CharityJobs: https://bit.ly/3IGguKM. 
Applications for this position close at 11.30pm on 8th February 2023. Interviews for this position will be held w/c 20th February 2023.
We particularly welcome applications for this position from candidates who are from Black, Asian and minority ethnic backgrounds and/or who have had personal experience of the criminal justice system.  
Applications for this position are particularly welcomed from people from Black, Asian and Minority Ethnic backgrounds, with lived experience of the criminal justice system, and/or with current enhanced prison security vetting.