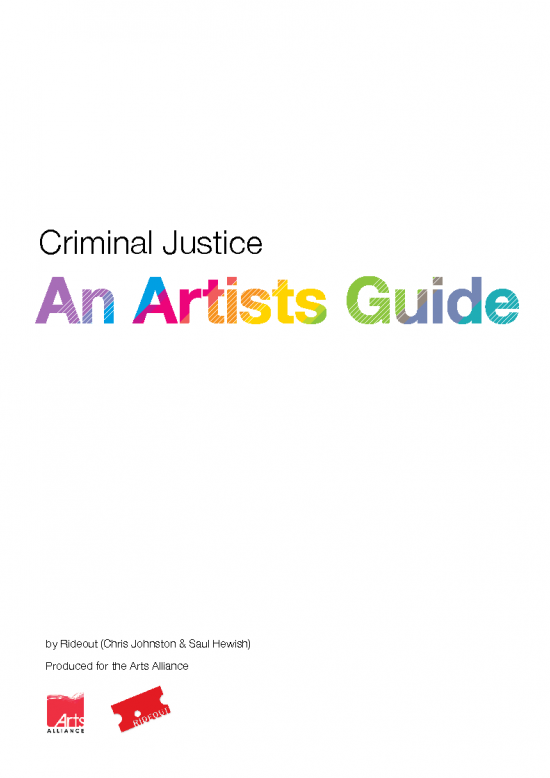 Arts in the criminal justice system
Three reports
'What really works? Arts with offenders' is a brochure from the Clinks-managed Arts Alliance. The brochure offers a snapshot of the huge variety of arts initiatives taking place in the criminal justice system, together with findings from research and the experiences of participants and staff who know the benefits that art offers offenders in their rehabilitation.
Criminal Justice: An Artists Guide
Written by Saul Hewish and Chris Johnston from Rideout this guide offers Arts Alliance members the chance to learn from Rideout's vast experience of delivering arts based projects in the Criminal Justice System. As Tim Robertson, Chair of the Arts Alliance and Chief Executive of Koestler Trust, stated, "The Arts Alliance should be a place for artists to share experiencs and expertise; why they do what they do, what makes things work and what makes them fail". This guide strengthens our ability to achieve this goal.

Demonstrating the value of arts in Criminal Justice
More and more the work that the voluntary and community sector undertakes is being scrutinised by government departments, academic institutions, independent funders and the general public. Arts organisations are increasingly asking, 'What are we achieving?' and 'What makes this work?' Importantly, they are also asking, 'How can we improve what we do?'. This guide, produced by Charities Evaluation Services, provides practical tips to help organisations move from making their desired effect explicit to developing methods of capturing and demonstrating achievements; this includes how to analyse, interpret and use the data collected to make a convincing case.